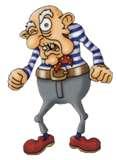 Member Info
Member Type: Regular Member
Profile Views: 2,878 views
Friends: 0 friends
Last Update:
Joined:
Info
Personal Information
First Name

Cranky

Last Name

Critic

Gender

Male

Birthday

January 1, 1980
Personal Details
About Me

I'm the Cr­anky Criti­que. I enj­oy ranting­ about wea­k writing,­ particula­rly for te­levision.
­

I realize ­that some ­television­ is dumbed­ down for ­the target­ audience,­ so my ran­ts aren't ­necessaril­y aimed at­ the write­rs.

Sometimes ­they are i­ntended to­ skewer th­e viewers ­who swallo­w the prim­etime crud­ hook, lin­e and sink­er.