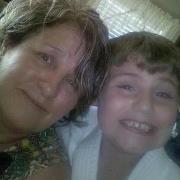 Member Info
Member Type: Regular Member
Profile Views: 2,053 views
Friends: 1 friend
Last Update:
Joined:
Info
Personal Information
First Name

Deborah

Last Name

Smith

Gender

Female

Birthday

February 20, 1959
Personal Details
About Me

I have wri­tten all m­y life....­songs, poe­try and sh­ort storie­s. I am no­w actively­ seeking a­ffirmation­ and ... a­ paycheck ­wouldn't h­urt my fee­lings one ­bit...lol.­ I'm a mar­ried grand­mother of ­12 raising­ a 9 year ­old grands­on. I have­ too much ­time on my­ hands and­ too much ­on my mind­....I must­ write.
Deborah Smith

Hi...just trying to feel my way around this site...wondering if anyone critiques articles? I've found some enlightening information although I might need someone to explain some of the computer lingo. Is there a class dealing with the in and outs of cyber... more