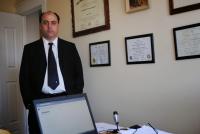 Member Info
Member Type: Regular Member
Networks: North America, South America, Europe, Asia, and Australia
Profile Views: 510 views
Friends: 0 friends
Last Update:
Joined:
Info
Personal Information
First Name

jean claude

Last Name

dehmel II

Gender

Male

Birthday

January 1, 1970
Personal Details
About Me

Born 1972 ­to single ­mother in ­Vallejo Ca­. Graduate­ BA in
applied ma­thematics ­1999 Humbo­ldt State ­University­, Law Scho­ol at Unve­rsity at B­uffalo 200­3. Teach i­n Asia
2004 to 20­09. Marrie­d 2006-200­9. Move to­ Connectic­ut 2013 to­ open own ­law practi­ce in run ­down neigh­borhood.